To compete with immensely growing Google+ , Facebook has first introduced the Skype for video calling & then group chat features. Things were good till then, But I don't why they changed the default Facebook chat system that we used to love.
I heard from many friends asking me for switching back to old Facebook chat on their account & finally I found some great solutions thanks to amazing script writers on web. Every body just hated new Facebook chat because it grabs end to end browser screen, shifts the Facebook to left side & looks bulky overall in the clean social networking experience.
Where as Old Facebook chat was – very simple, Clean & light for using for any number of chats online. So are you one of us who just hate new Facebook chat ? – Check out these specific & simple solutions for most used three browsers – Mozilla Firefox, Google Chrome & Opera.
How To Get Old Facebook Chat Back on Google Chrome
Google Chrome allows you to install script directly inside browser without any plugin support, So its dirt simple as one click to get your old FB chat back.
1. You need to install a free script in to your Google Chrome – Click Here to Download the Facebook Chat Reversion Script
2. Click The Install Button on top right & Script will install itself.

3. Click Continue at warning on bottom of Chrome.
4. Click Install in pop up windows opened by Chrome as follows.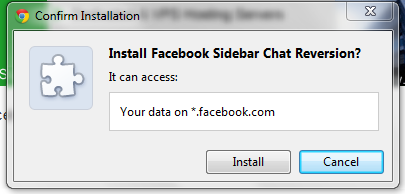 5. Now, You're done ! You must restart Facebook page & might have to clear cache if it's still showing new chat.
How To Get Old Facebook Chat Back on Mozilla Firefox
The process is quite similar to the chrome installation just that you have to install an additional plugin Grease Money that let you install numerous script inside Firefox. Trust me you wont regret your decision to install this plugin inside Firefox.
1. Go to Grease Money Add on page & Click Add to Firefox Button for installing the add on.

2. Restart Firefox after the installation is done.
3. You can verify by checking the monkey icon will be displayed on top right or address bar.
4. Now go to this link for Installing old Facebook Chat Reversion script.
5. Click Install Button

6. Now your script will be installed within seconds & you are good to go with old Facebook chat. Don't forget to open the new windows for starting FB or you can simply clear the cache.
How To Get Old Facebook Chat Back on Opera Browser
If you're using Opera browser getting old FB chat back is very simple for you & just a 2 step process as follows.
1. Click Here to get the custom add on for Opera Browser & install it.
2. That's it, You just have to restart opera & open Facebook page & you'll get your old chat back.
Let us know if you encounter any problem in the tutorial in comments section below. Don't forget to Susbscribe to Our Free Email Newsletter for getting more such Tutorials, Social media studies, Reviews &  SEO tips.